STUDIO GATTO SELLS PITT COOKING GAS STOVES. A PERFECT COMBINATION OF FUNCTIONALITY AND DESIGN
PITT Cooking is an innovative cooking system with powerful gas burners that are mounted directly on the cooktop.
It is the perfect combination of efficient cooking with a powerful flame and a design adapted to the kitchen, thanks to the wide variety of configurations it offers.
The power of the flame
PITT cooking is a specialist in gas hobs integrated independently and directly into the worktop with all its technical parts hidden underneath. A new concept that moves away from the traditional burner and pays homage to cooking in its purest form. What could be more essential and basic than the fire in it? is what defines it as "the power of the flame".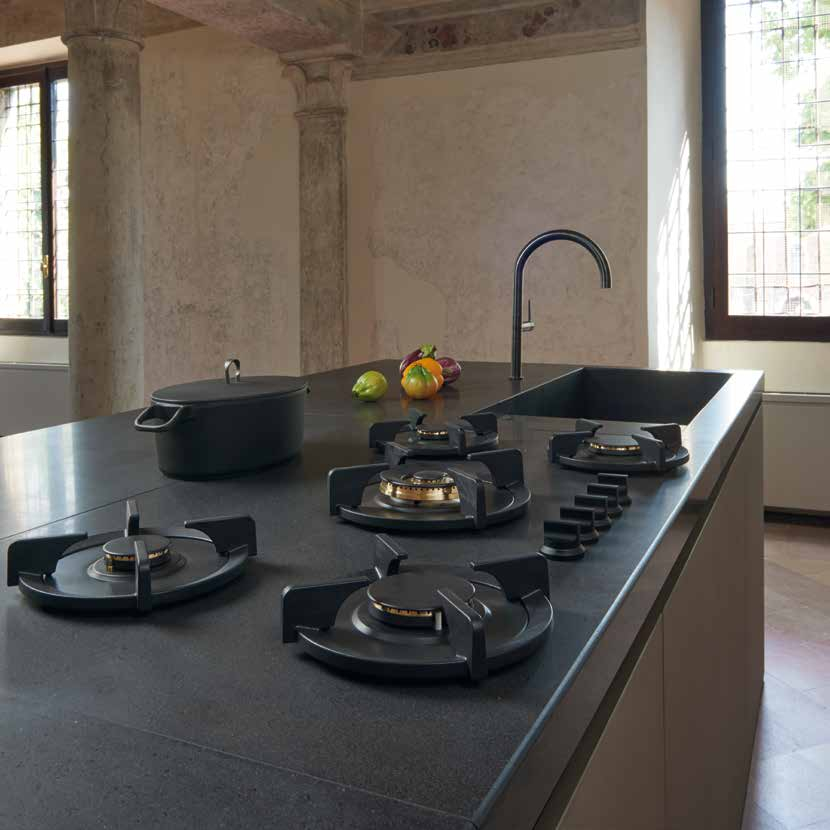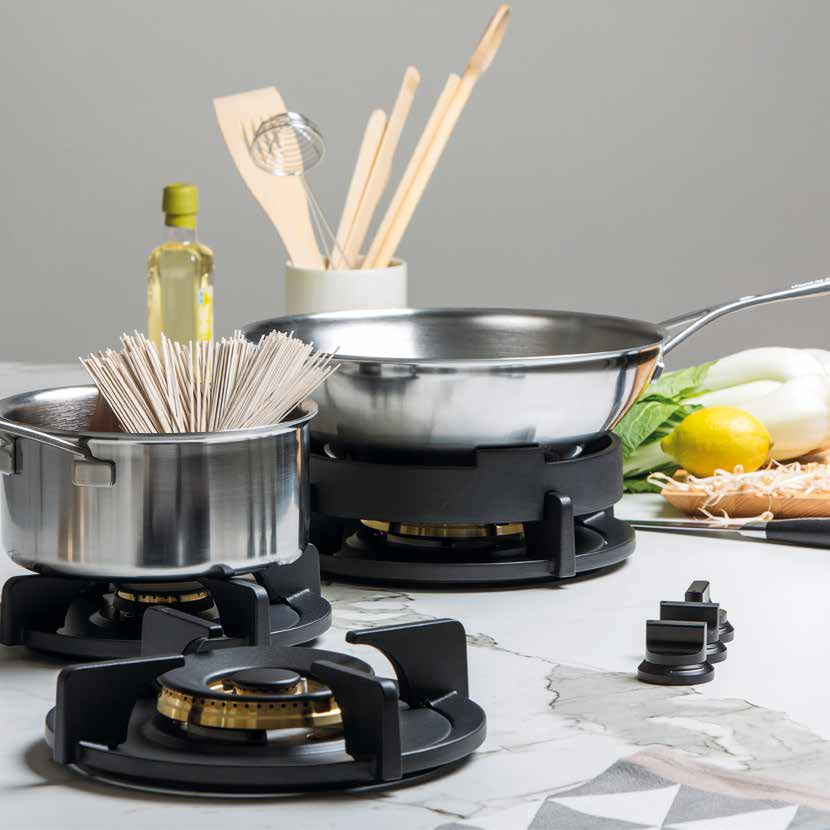 Functional use of space in the kitchen
Not enough space for your pans during cooking? This was one of the most important reasons for the origin of PITT cooking. It has an average of eight centimeters more space between burners, compared to a traditional gas cooktop. Now you can use all your pans, pots, casseroles and even the Wok, all at the same time. And for those who need more space and freedom of movement, Pitt cooking offers several models in its XL version. Same burner power, same functionality but more space between burners
PITT COOKING on your favorite countertop
PITT cooking fires can be installed on all types of countertops: quartz composite, natural granite, marble, micro-cement, porcelain, glass, Solid surface or stainless steel, with the exception of laminate, HPL or solid wood countertops. Its special technique is patented and ensures minimum heat transfer to the worktop. PITT cooking received the official KIWA GASTEC certification, which ensures that the product meets the highest quality, functionality and safety requirements.
And if you doubt which countertop to install, at Studio Gatto we can offer you a wide variety of countertops.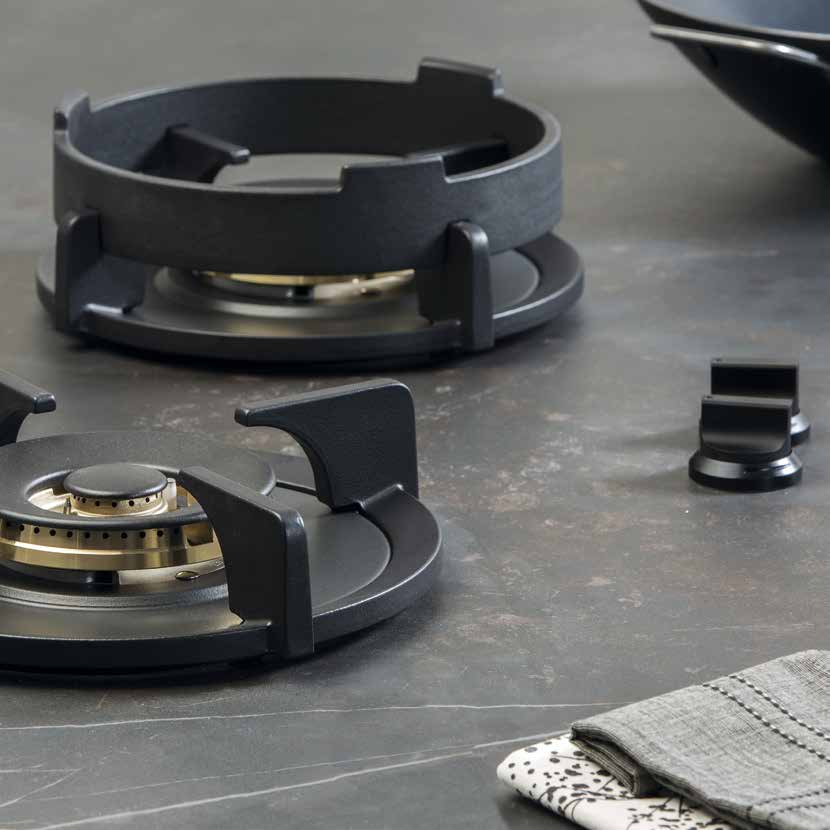 Maximum quality and power
PITT cooking burners are robust, high quality and have powerful flames. We have three different burners: small, medium and a double crown burner combined with Wok. Feel like a professional chef in your own kitchen with the "PROFESSIONAL PITT" range in brass and cast iron finish.
A wide range of options to choose from
There is a range of 31 different models. All of them can be combined as you wish, depending on your personal style or the space available in each kitchen.
We have a model for every need.
Your cooking habits or the space you have available will determine which model is best for you. In addition, all burners can be combined with each other to further customize your ideal configuration.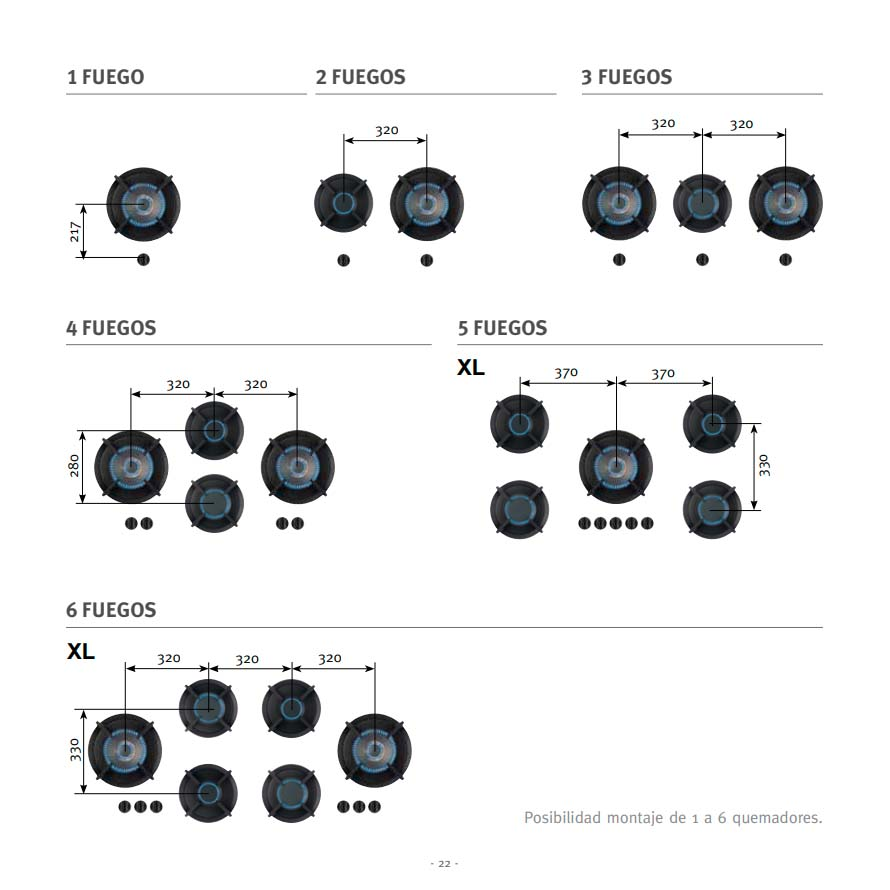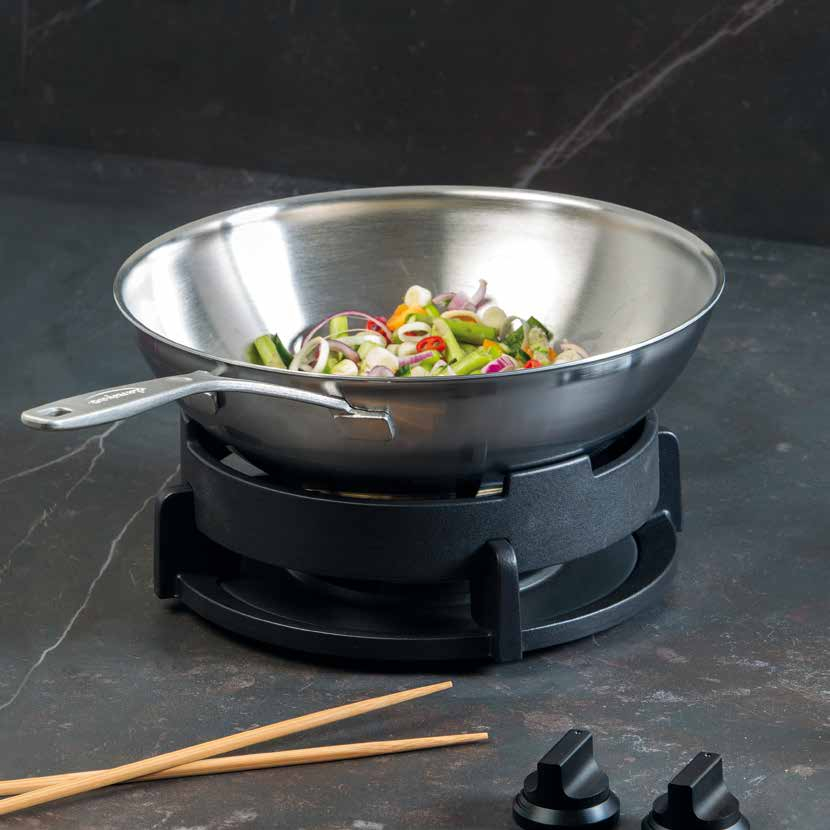 Get inspired
Inspire your dishes in other cultures. For the design of the wok ring, we traveled to the place of blue oceans, golden temples and delicious food, to the place where true wok professionals are born.
The PITT cooking Wok ring is specially designed for our 0.2 to 5kW double-crown burner, which guarantees maximum stability for round base pans. The special ring design ensures optimum flame distribution without loss of heat or energy. The Wok ring will be included provided that the chosen model incorporates a double crown burner from 0.2 to 5kW.
Easy cleaning
After cooking, the burner parts can be easily removed for cleaning. The absence of corners and edges combined with easy disassembly of its components make PITT cooking a very convenient product to use and maintain.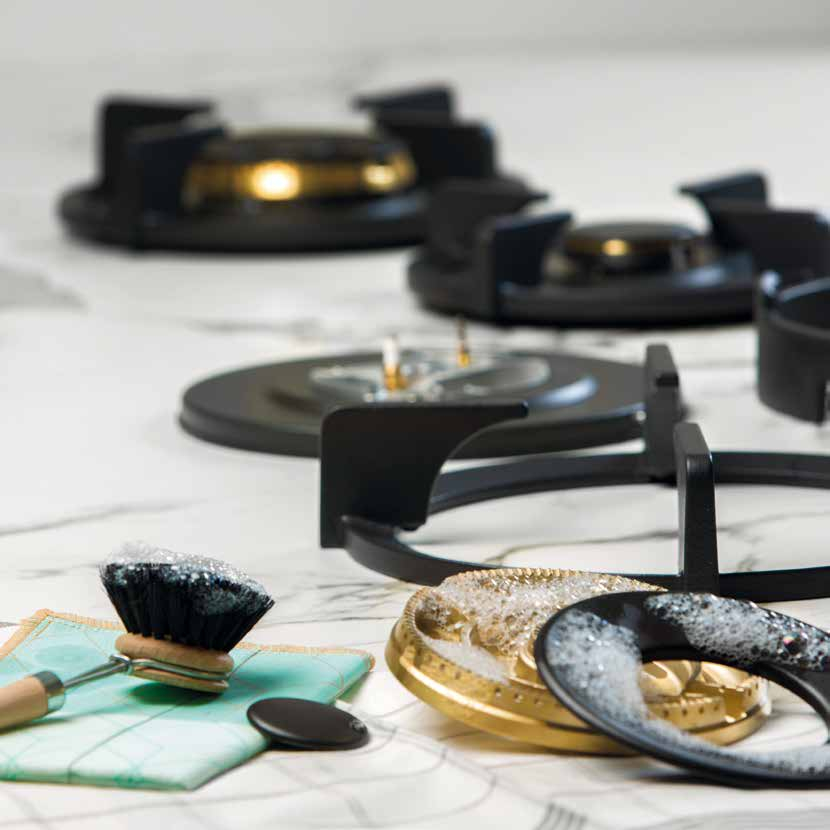 Design
With its timeless look, PITT is suitable for all types of kitchens: from classic to contemporary. Plus, its black cast iron burners enhance any kitchen.
DIFFERENT CONFIGURATIONS
Thanks to PITT's variety of different configurations, there is a perfect option that will allow you to adapt it to the needs and space available in your kitchen.
All PITT configurations have substantial burner spacing, more than a traditional cooktop, so you'll have more space for pots and pans.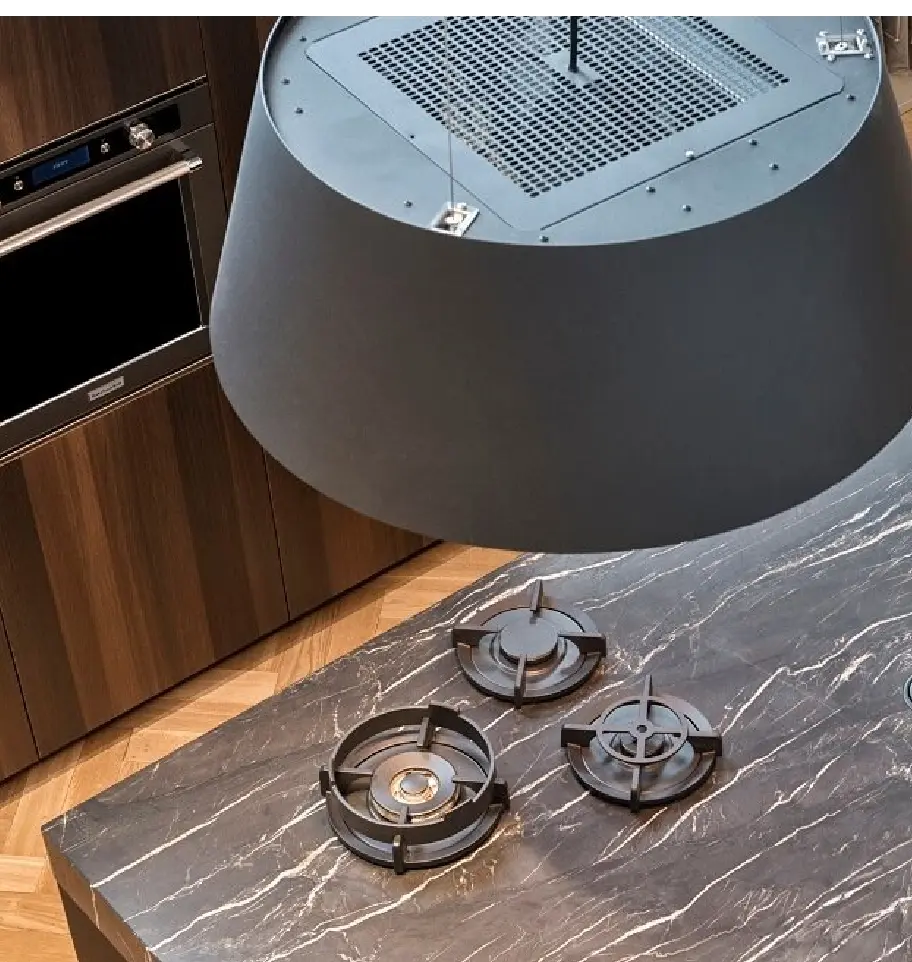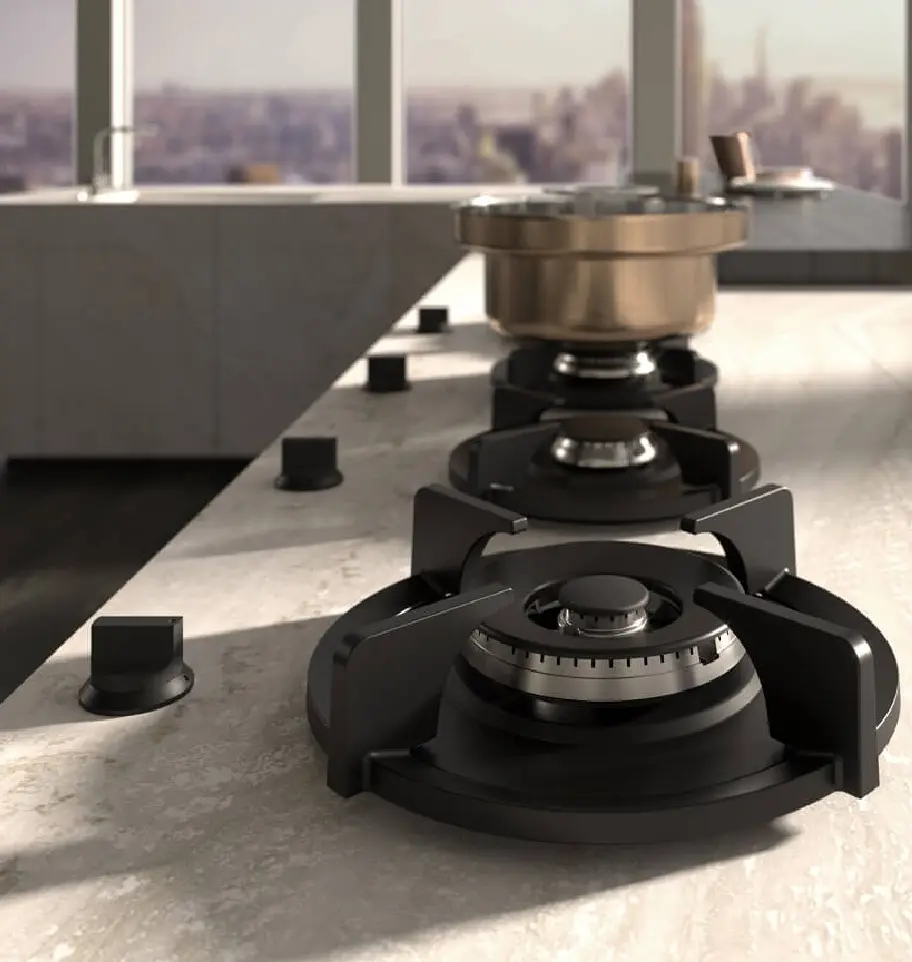 Quality and safety
PITT Cooking has obtained KIWA GASTEC QA certification. This certification offers users the certainty that their (gas) product meets strict quality, function and safety requirements.
Burners from simmer to sauté, and from low flame to high flame. Total control over the flame. Air flow from above provides superior burner performance, achieving a responsive, powerful and efficient flame.